Ottawa Kitchen Exhaust Cleaning
Kitchen Exhaust Cleaning Specialists
Commercial Cleaning Service
*** We are NFPA #96 CERTIFIED Kitchen Exhaust System Cleaning Company.
*** We provide Health & Safety CERTIFICATE as per NFPA 96 code, before and after pictures will be provided upon completion of work.
*** WSIB and Liability Insurance will be provided before the start of work.
We Have The World's Most Awesome Clients










Ottawa Hood Exhaust Cleaning
A commercial hood's function is to collect grease and grime produced by kitchen cooking appliances, such as fryers and broilers. Grease in commercial kitchen hoods should be removed for three major reasons: fire prevention, health and hygiene, and improved efficiency of the exhaust system.
However, grease build-up in a commercial hood is inevitable, which is why Ottawa hood exhaust cleaning and maintenance must be carried out regularly to ensure that the hood is functioning properly.
Several steps are involved in cleaning a commercial hood exhaust, including removing all of the grease and grime from surfaces inside and outside of the hood, clearing out any clogs or blockages in the ductwork.
Additionally, a thorough wipe-down with a degreaser is usually required, as well as a touch-up clean of the exhaust fan and other parts.
If you own or manage a commercial kitchen, don't skimp on hood exhaust cleaning services – hire an experienced and reputable provider. This job is not DIY, especially when your establishment is monitored by health and safety inspectors.
Ottawa Hood Exhaust Cleaning not only offers industry-leading commercial exhaust system services, but we also make sure that you are up to par with all of the mandatory cleanings and regulations. You don't want your establishment to be shut down. The importance of regular hood exhaust cleaning cannot be overstated. Pay attention on what you do best, which is to run your business, and let us take care of your exhaust system.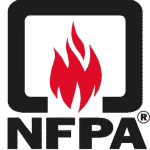 Our Fully Trained Service Technicians Follow The NFPA 96 (National Fire Protection Association) Standards for Hood & Kitchen Exhaust Cleaning.
Get Your Free Hood Cleaning Estimate Now!
There is more to kitchen exhaust cleaning than averting a fire hazard. The dangers of unclean kitchen exhausts come in many forms, including but not limited to:
Inefficient cooking. If an exhaust system is clogged, there could be a build-up of flammable residue in the ductwork that causes fires.
Unsanitary conditions: A dirty kitchen will accumulate food and grease, which could lead to moulds and other bacteria growing on the walls.
Sickness: Kitchen exhausts are a hotbed for viruses, fungi, and bacteria that may cause respiratory illness.
Unhealthy working environment: Unsanitary conditions can be hazardous for employees, especially if there is a failure to clean the exhaust system or its components.
Ottawa Kitchen Exhaust Cleaning
Unclean kitchen exhaust may go unnoticed for months or years, but every day the problems get worse. Grease and grime break down into particulates that build up on duct surfaces over time. This filth is a natural hazard as it catches fire easily and can spread quickly.
If you want to keep your kitchen safe, clean, and sanitary for employees and customers alike, schedule a regular kitchen exhaust cleaning service with Ottawa Kitchen Exhaust Cleaning. Not only will this help to prevent fires, but it will also ensure that your exhaust system is performing at peak efficiency.
Did you know that a single flame is all it takes to set an exhaust system ablaze? We've seen countless examples of this in our years servicing commercial kitchens. More often than not, the catalyst for these fires is a build-up of grease and other particles caked onto the system.
If your ductwork is full of grease or oil, a fire on the stovetop will be quickly pulled up and into the ducts. If there's enough accelerant in the ducts, the fire will keep blazing, eventually causing extensive damage to the kitchen and even spreading throughout the building. Don't let that happen to you.
Ottawa Kitchen Exhaust Cleaning Companies
You put in a lot of money, effort, and time in creating a highly functional commercial kitchen. The ambience brings forth maximum efficiency to your staff. You even take pride in it as an entrepreneur. So, the last thing you need is a seemingly small and petty issue cropping up in your commercial kitchen which can turn out to be a huge disaster for you.
Do not take chances by ignoring your kitchen exhaust system. Yes, it is an unassuming and seemingly small part of your commercial kitchen. But, it is responsible for taking out the heat, smoke and grease from your kitchen. In short, it serves an indispensable role in a well-functioning commercial kitchen.
Busy kitchens, i.e., restaurants, hospitals, convention centres, and hotels rely on Ottawa Kitchen Exhaust Cleaning Companies for protection and security from the dangers of grease build-up. We are reliable and insured, and our certified technicians will show up on time, work quickly and respect your staff and facilities as if they were their own.
We guarantee:
• Thorough cleaning of your kitchen exhaust, including the surfaces and hard-to-reach areas
• A cleaning output that passes the Ottawa Fire Services' safety inspection
• An exhaust system that meets every insurance company's standards for safe operation
• A comprehensive report of possible electrical and mechanical issues we come across while cleaning your hood
Allow us to do what we do best. In turn, you get to focus on running your business and making sure that your kitchen always runs in top form.
Ottawa Exhaust Fan Cleaning
The exhaust fan in a commercial kitchen is responsible for removing the smoke and heat produced from cooking. Unfortunately, the way it functions is the same reason why it is a frequent source of the fire.
There are two reasons for this. First, the grease and grime get caught in the fan blades causing them to become clogged. Second, because it is so hot when it spins you can actually set a fire. But you can avoid those two problems by working with Ottawa Exhaust Fan Cleaning experts.
Our experienced and trained kitchen exhaust system cleaners will handle your fans with the utmost care. We make sure that not only are the fan blades removed and cleaned but also the components below them. We have the same goal here – to never again worry about grease buildup or a potential fire hazard in your commercial kitchen.
Ottawa exhaust fan cleaning is carried out in three steps:
1. We remove the fan blades and clean them thoroughly to get rid of any grease buildup.
2. We then clean the components below the fans, such as the ductwork, exhaust hoods, and filters, to ensure that they are also free from grease and debris.
3. Once we have finished cleaning your exhaust fan and its related parts, we will reattach the blades and put everything back in place.
We have been using this three-step process for years and have successfully helped many commercial kitchens to keep their exhaust fans clean and functioning properly.
Ottawa Kitchen Exhaust Hood Cleaning
In Ottawa, commercial kitchens are legally required to have their exhaust systems cleaned regularly. Installing a hood and ductwork in restaurants, hotels, hospitals, cafeterias, and other food service establishments eliminates the issue of smoke, steam, and fumes.
Exhaust gases from the kitchen build up over time and stick to the inside of your ductwork. This heavy grease and grime buildup is a fire hazard, especially in a commercial kitchen setting where ovens, burners and stoves are used throughout the day. A high-powered exhaust fan removes these gases from the room and carries them outside through your ductwork.
Ottawa kitchen exhaust hood cleaning, restaurant hood cleaning, or commercial kitchen exhaust cleaning – they all describe the same thing. A professional company uses special vacuums and degreasers to remove the grease from your ductwork, ensuring that there is no fire hazard.
The key benefits of Ottawa kitchen exhaust hood cleaning include:
• Removes built-up grease, smoke and residual odours from the air, eliminating fire hazards and creating a healthy food service area.
• Saves on energy costs by minimizing indoor air pollution in the building (especially if you have an outdated exhaust system that is not working efficiently).
• Boosts productivity, as workers no longer have to deal with smoke or fumes while preparing meals.
If you're a restaurant owner or manager, take the time to do some research on kitchen exhaust hood cleaning. Your self-inspection will reveal whether your commercial kitchen meets fire and health code requirements, as well as provide you with peace of mind that you are providing a safe working environment for your staff.
We're here if you need help with the inspection. We use safe and efficient cleaning products, as well as HEPA filters to ensure that your cooking area is clean and healthy when we're done with it.
Ottawa Commercial Kitchen Exhaust Cleaning
Services for cleaning commercial and industrial hood exhaust systems are provided by Ottawa Commercial Kitchen Exhaust Cleaning in the city of Ottawa and the surrounding locations.
Our comprehensive exhaust cleaning, pressure washing, and degreasing services, together with our kitchen exhaust cleaning solutions, guarantee that your cooking space is always kept in a sanitary and risk-free environment. Our professional cleaning specialists have the skills as well as the commercial equipment necessary to clean your restaurant's kitchen hoods in a safe manner while reducing the amount of time your restaurant is closed for maintenance. In the event that it is necessary, we can supply inspection certificates for your insurance provider.
A properly maintained restaurant kitchen exhaust system means operating within NFPA 96 compliance and also working within a safer environment. The customers we serve come from restaurants, long-term care homes, hospitals, cafeterias, hotels, jails, event centers, and other industrial commercial facilities.
Call Ottawa Hood Cleaning today for your free written hood cleaning estimate and let the professionals handle it.
What People Are Saying
See what our customers are saying about us
They do great work and my kitchen hood is super clean again. Thank you
We hired Ottawa Hood Cleaning to clean our kitchen exhaust hoods. Ali and his team are amazing to work with. From the time we called and booked our appointment to the time the service technicians showed up these guys are true professionals. Thank you
Can't say enough good things about Ottawa Hood Cleaning. They know the restaurant business. They know what restaurant owners want and need. They kept the kitchen disruption to a minimum and were in and out within half a day. Great work. Thank you
Ottawa Hood Cleaning Areas Served