Ottawa Hood Cleaning Service
Kitchen Exhaust Cleaning Specialists
Commercial Cleaning Service
*** We are NFPA #96 CERTIFIED Kitchen Exhaust System Cleaning Company.
*** We provide Health & Safety CERTIFICATE as per NFPA 96 code, before and after pictures will be provided upon completion of work.
*** WSIB and Liability Insurance will be provided before the start of work.
We Have The World's Most Awesome Clients










Ottawa Hood Cleaning Service
The process of eliminating built-up grease and grime from the interior of ducts, hoods, fans, and vents is the primary focus of Ottawa Hood Cleaning. We specialize in cleaning kitchen exhaust hoods in Ottawa and all surrounding areas. We serve all restaurants, hospitals, long-term care homes, jails, event centers, banquet halls, resorts, hotels, conference centers, schools, universities, and all institutions including commercial and industrial.
Our cleaning program consists of the following:
1. Each and every ventilation system for the kitchen is cleaned thoroughly from top to bottom. After that, caustic chemicals that are safe for food are added to the grease in order to break it down. The majority of the time, these chemicals are spread using a sprayer designed for gardening, a downstream injector pressure washer, or a chemical foamer.
2. After a predetermined amount of time has passed with the chemicals remaining on the greasy surfaces, they are then removed with hot water. In exceptional circumstances, if an application of chemicals followed by rinsing is not sufficient to remove substantial grease accumulation, scrapers can be used to remove the excess buildup in the area prior to the application of the chemicals.
3. To remove the oil and chemicals from the surfaces, a high-powered and hot water pressure washing is utilized. In most cases, heavy-duty tarps are used to collect runoff from exhaust hoods by being fastened to the hoods and then slanted into trash cans. As the cans are used up, they are replaced with empty cans of the same size and type.
4. As a last step, hoods are frequently polished so that they not only look better but also make it simpler to maintain them. Hood cleaners will place a sticker on each exhaust system's hood to demonstrate to insurance adjusters and the authorities in charge of enforcing compliance that the hoods have been cleaned to meet the requirements of the local fire regulations.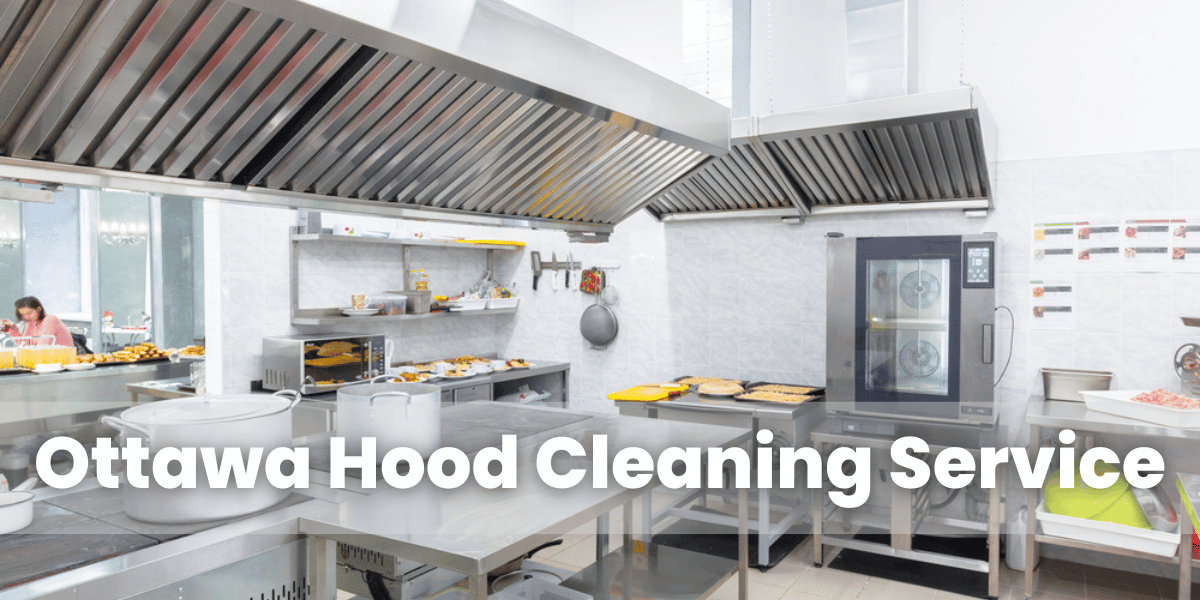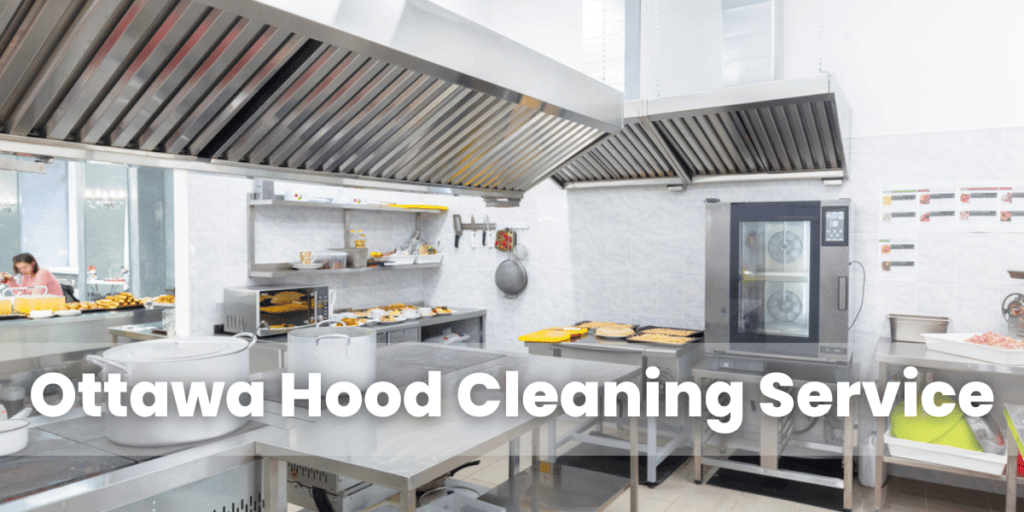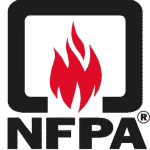 Our Fully Trained Service Technicians Follow The NFPA 96 (National Fire Protection Association) Standards for Hood & Kitchen Exhaust Cleaning.
Get Your Free Hood
Cleaning Estimate Now!
Ottawa Hood
Cleaning Services
Ottawa Hood Cleaning Services provides quality hood cleaning for the benefit of a commercial kitchen. Your kitchen hood works by filtering the air inside your kitchen, and in doing so, it collects all the grease and grime produced by cooking.
There is no way for this collection of filth to escape, and as a result, the hood bears the brunt of the job.
Our hood cleaning service focuses on four specific areas:

1 – Filters
Filters are the visible, stainless steel components of the range hood that block dirt from entering the mechanical fans. The job is to meticulously separate the filters from the exhaust system, from which our professional cleaners will have to clean each component of the hood right after.

2 – Fans
The purpose of a mechanical fan is to guide airflow and remove cooked air from the kitchen. This function makes the fan susceptible to grease and grime, which ultimately compromises its efficiency. Our technicians use specialized tools that allow us to clean the fan blades and housing from the inside out, ensuring that all the grease that has built up is removed.

3 – Grease Traps
Grease traps are designed to store all the dirty grease from your cooking equipment. You will find small trays inside the ductwork that collect any grease. It's not easy to get rid of all that sticky grease. Ottawa Hood Cleaning Services deal with it by using high powered vacuum and other cleaning tools to remove the grease from the trays.

4 – Ductwork
Duct cleaning is just as important as any other part of the hood cleaning service because it is where all the three previous components we discussed are joined. Grease and grime accumulate inside the ductwork through time, compromising its overall integrity and functionality. The entire ductwork will be cleaned by our technicians to ensure the proper airflow and removal of dirty air from your kitchen.
A professionally cleaned hood will save your kitchen from expensive damages and ensure a safe, clean environment for your employees and customers. And as proof of our commitment to top-notch service, it is our standard procedure to place a sticker of approval inside the hood to certify that Ottawa Hood Cleaning Services has completed a thorough and comprehensive cleaning service.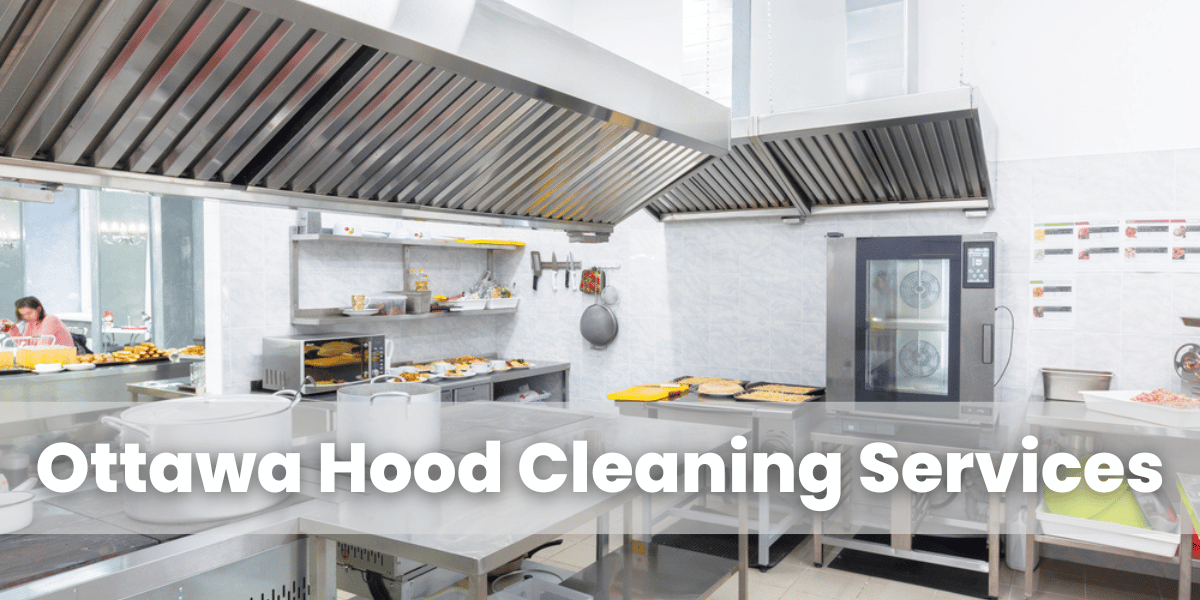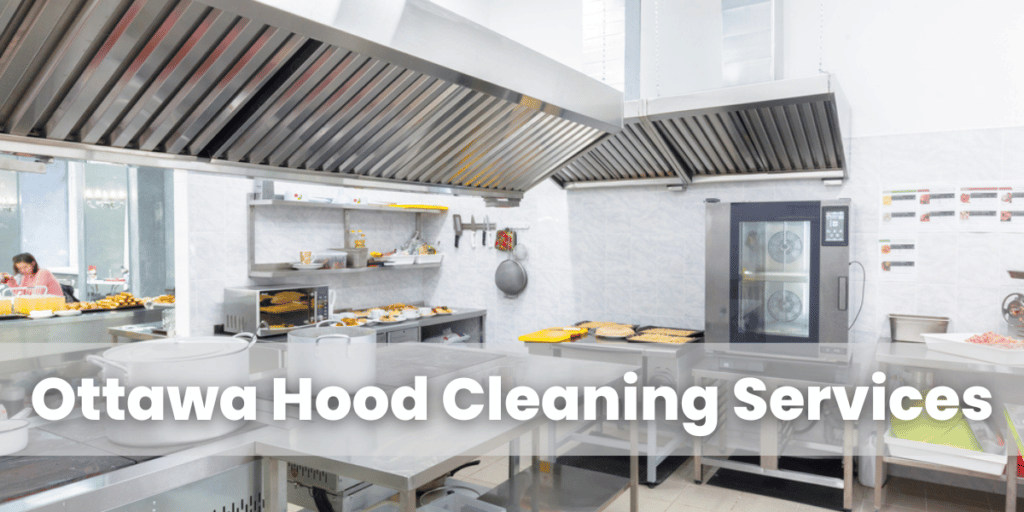 Ottawa Hood Cleaning Service
A kitchen is less likely to experience issues if there is a properly functioning exhaust hood system. Commercial and industrial kitchens carry the brunt of this responsibility, as they produce large amounts of airborne grease, grime, and other contaminants. Ottawa Hood Cleaning Service is the ideal solution for keeping your kitchen exhaust system in excellent condition and preventing costly damage to your equipment.
Cleaning your kitchen exhaust hood regularly will prevent a possible malfunction and ensure years of stress-free operation. In our language, it means minimized risk of major repair and prolonged equipment lifespan. Ottawa Hood Cleaning Service has the expertise and equipment needed to deep clean your kitchen exhaust hood system with industry-leading efficiency.
Efficient hood cleaning involves more than just a simple spray and wipe. Ottawa Hood Cleaning Service uses high-powered vacuum systems to get rid of grease and grime from the hood itself, as well as from the filters and ducts. We also use products specially formulated for grease removal, so you expect a spotless surface, anywhere from the hood to the fan blower.
Meanwhile, a dirty kitchen exhaust system forces you to spend money on frequent expensive emergency repairs. The lack of immediacy and regular maintenance will eventually correspond to irreparable damage to your equipment.

How Grease Affects Your Kitchen
The hood serves as the initial line of the capture of the kitchen exhaust system. It works by pulling grease-filled vapours out of the indoor air. The vapours find their way into your hood, through your vent hood filters, and then finally out of the building by way of rooftop exhaust.
Did you know that these vapours carry flammable residues? It's for this reason that the build-up of grease and grime puts your kitchen at risk of a fire. Ottawa Hood Cleaning Service guarantees that you avoid this dangerous situation by performing routine maintenance and inspections on your hood system to safeguard against these harmful effects. If left unchecked, these fires will quickly spread to other areas of your building, some of which are not covered by a fire suppression system.
Don't let that happen to you. Get professional hood cleaning services that will keep your kitchen exhaust system running the way it is supposed to.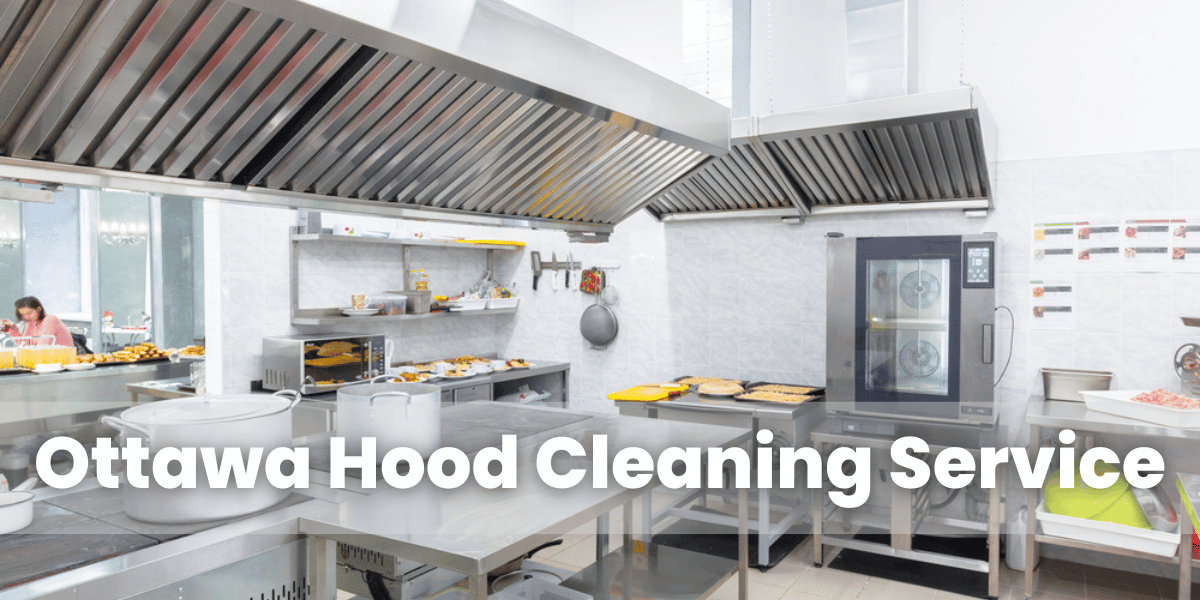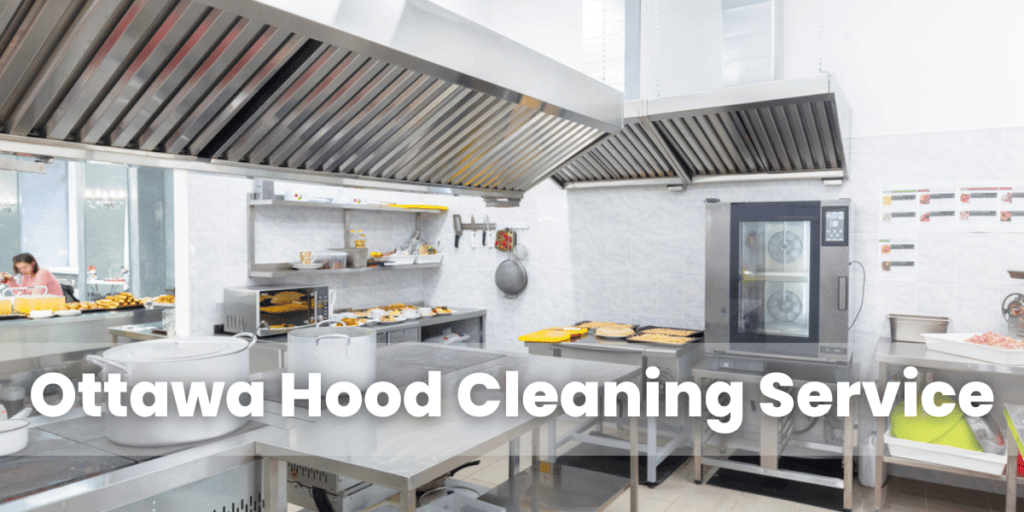 Although restaurant hood cleaning is good for mitigating the risk of fire, it is not the only method to use to clean the entirety of your restaurant's cooking equipment. There are a number of other factors to consider when it comes to keeping your kitchen safe and clean, such as the use of high-quality cleaning products, regular inspections for ventilation issues or clogs in the hood system, and providing adequate training for your staff on fire safety procedures.
We never fail to remind our clients of the significance of regular kitchen hood cleanings combined with grease filter replacements. Likewise, those two must be reinforced by quarterly steam cleanings.
Our restaurant hood cleaning is carried out by a qualified technician. The process includes:
Thoroughly clean the interior and exterior of your exhaust hood to prevent grease buildup. If it gets too hot, it could ignite inside your exhaust system while you're cooking
Surface cleaning is followed by hard scraping, where the hood is completely dismantled and all grease, dirt, and debris are removed. The goal of scraping is to eliminate persistent odours trapped in the layer filled with grease.
In most instances, power washing is necessary to get rid of stubborn stains. This method is used to prevent the formation of grease residue. We also lubricate all moving parts inside the hood system and test them for proper operation.
Inspection is then carried out to ensure that there are no cracks or holes in your exhaust system. Any problems found should be repaired immediately to avoid potential fire hazards and air pollution.
Our qualified hood cleaner will apply a high-quality coating to protect your exhaust hood from further grease buildup and corrosion over time.
Keeping Up With The Fire Safety Code
All commercial cooking equipment exhaust systems, including fire protection systems, must conform to the standards set by the National Building Code of Canada (NBC) and the NFPA 96. Restaurant hood cleaning and maintenance are key components of ensuring that your equipment meets these standards and is always safe to use. By partnering with a reputable hood cleaning company, your commercial or industrial kitchen is guaranteed to be in compliance with the fire safety code and is kept free from any potentially dangerous grease build-ups.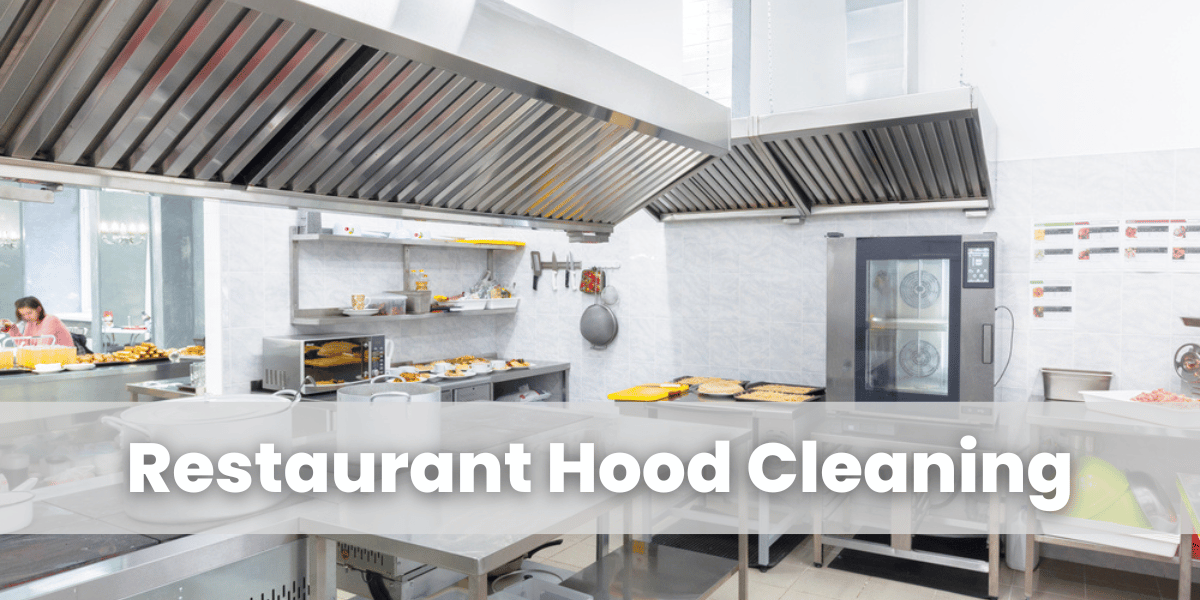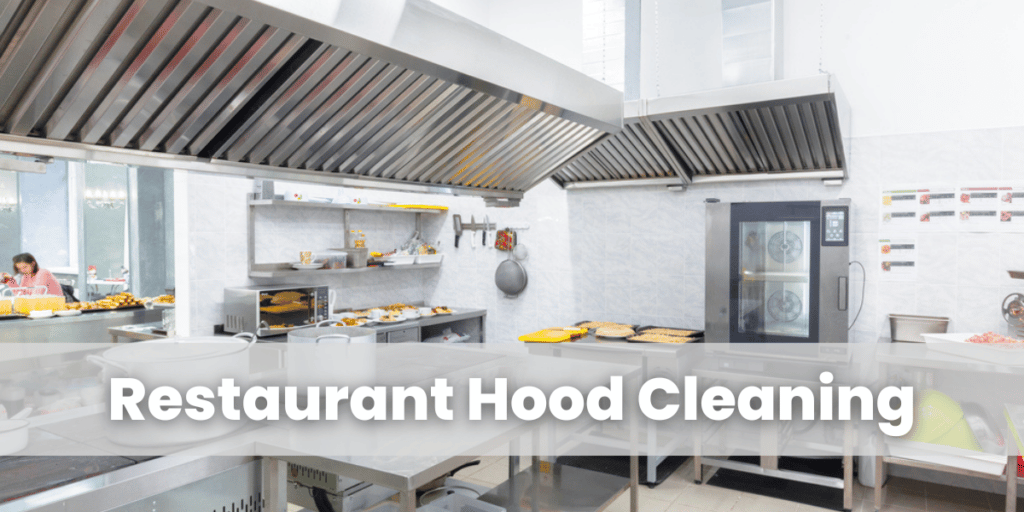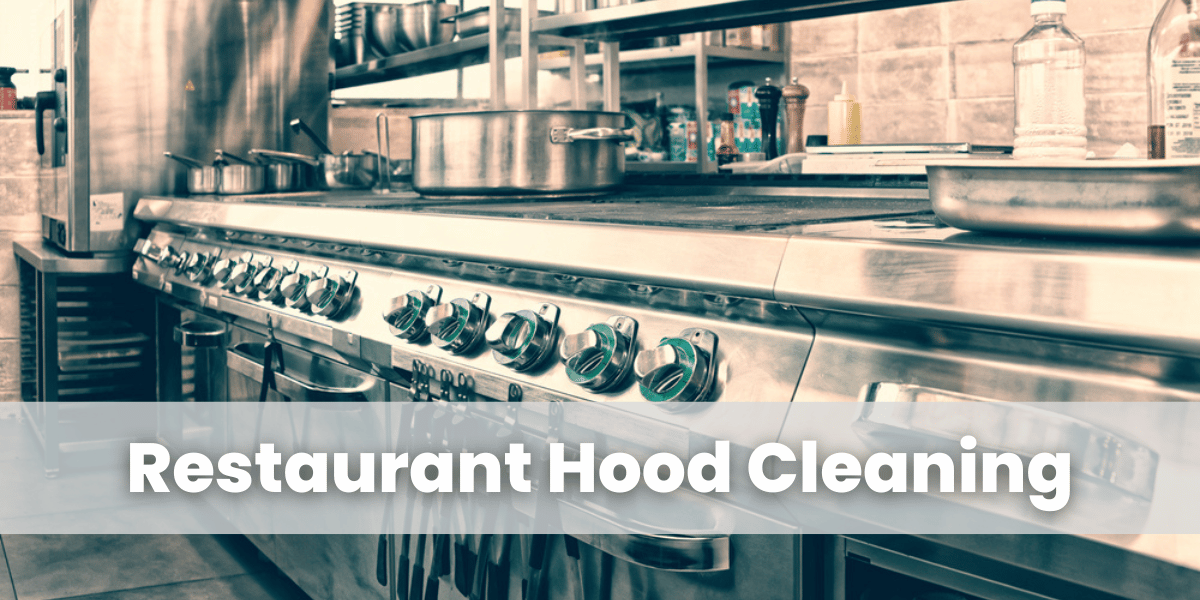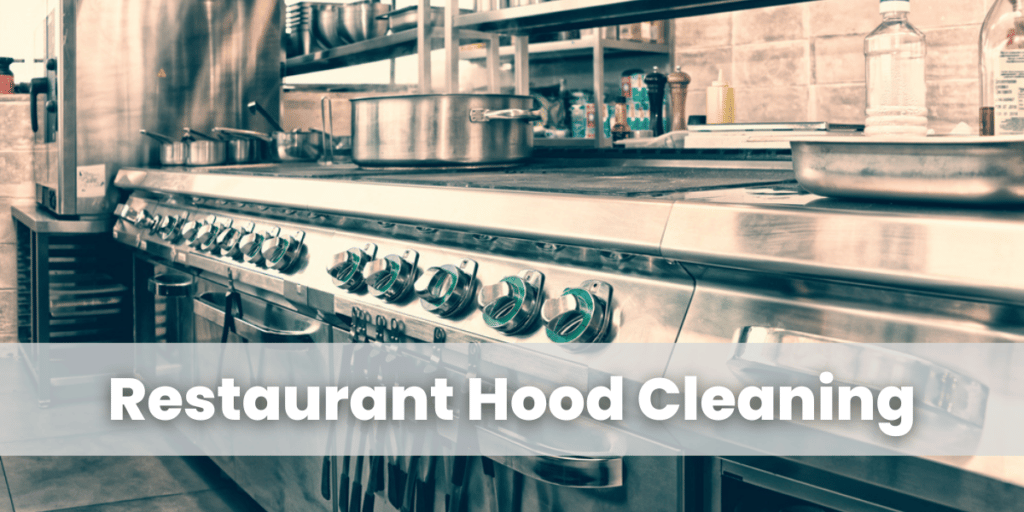 The NFPA 96 standard requires that commercial kitchens have regular maintenance and cleaning of their hoods, the main purpose of which is to prevent fires and similar hazards. Kitchen hood cleaning is a comprehensive endeavour that involves removing grease and grime from the hood itself, as well as deep cleaning all other components in the kitchen.
But the focal point of our professional kitchen hood cleaning service is everything that falls within the hood, including the fan blades, ducts, grease trays and filters. Using powerful cleaning agents and high-quality  pressure washing equipment, we remove built-up grease on these surfaces with safety in mind.
You may have noticed other cleaning companies using dry chemicals blitzing their way through the job, but our team only uses the safest and most effective cleaning methods to ensure nothing gets compromised and damaged along the way. We know through years of experience that some traditional practices no longer work, especially when we're dealing with surfaces like stainless steel.
So, the next time you're awed by a seemingly cat-quick cleaning crew, give our professional kitchen hood cleaning service a try and see the difference for yourself.
Whether you own a commercial restaurant, hotel kitchen, school cafeteria, or other food service establishment, regular maintenance and cleaning of your hood are not just for the sake of cleanliness and safety – they are also required by law. Keep that in mind the next time you think twice about calling in a professional team for kitchen hood cleaning.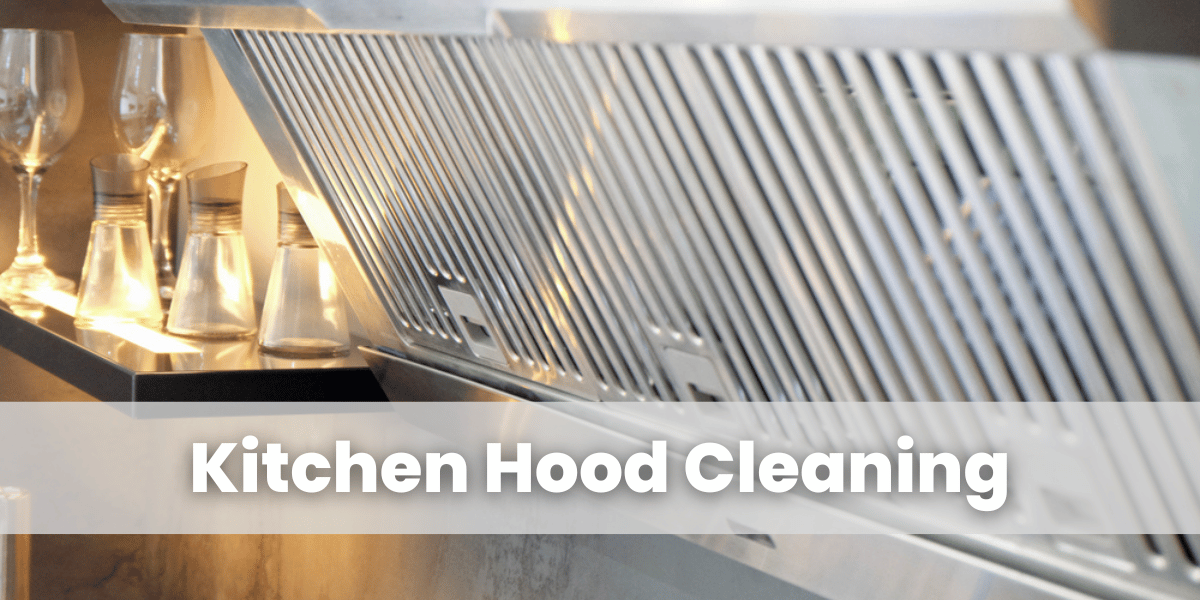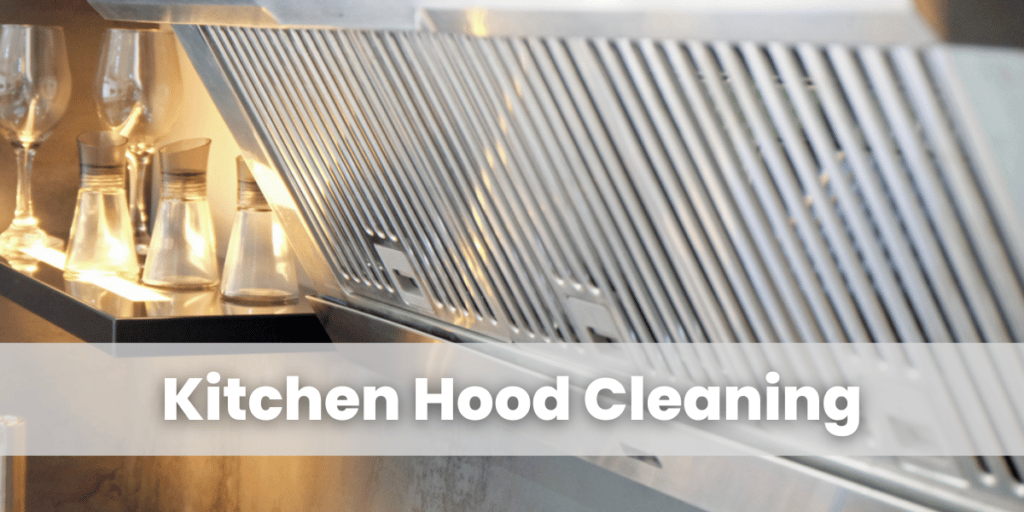 Commercial hood cleaning involves removing all hard grease stains and buildup, power washing the system, replacing or removing old filters, and removing cooking stains that could prevent it from working properly. Those tasks are to be performed by not just anyone, but by professional hood cleaners who have done it countless times.
Grease and grime will eventually build up in your kitchen's ducts, hoods, fans, and vents even if you clean them as part of your commercial kitchen routine. How much more if you don't clean them regularly? Over time, the buildup could cause your hood to malfunction or even become a fire hazard. 
We are here to clean your kitchen hood so you don't have to burden your staff with this Herculean responsibility. You tell us when and we'll be there. We understand that some seasons are busier than others, so we can work around your schedule whenever you need help.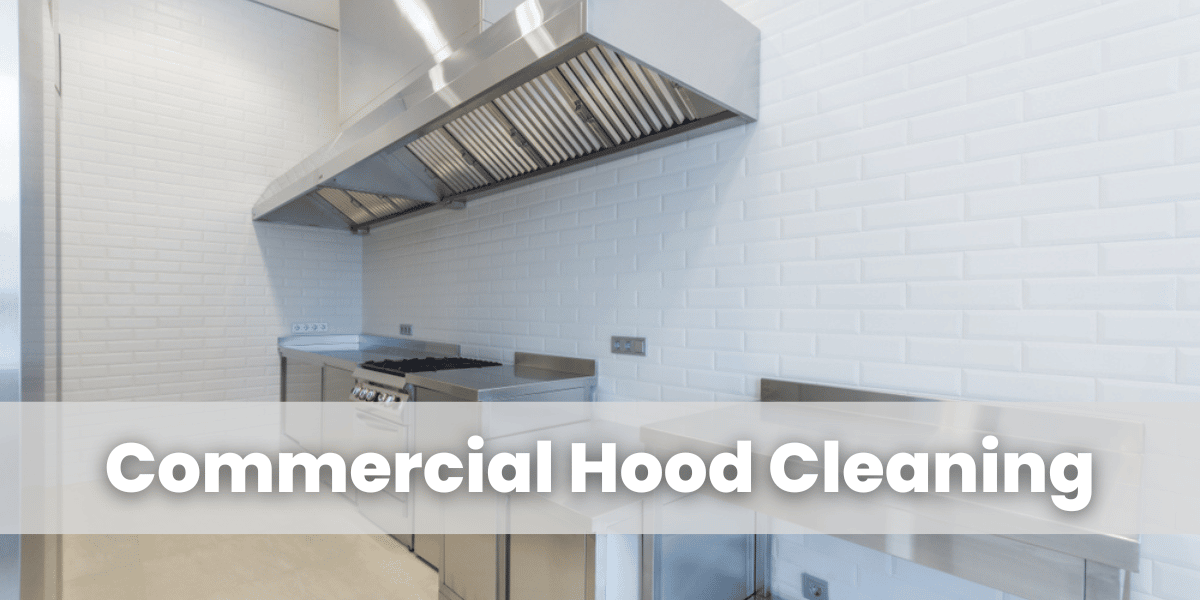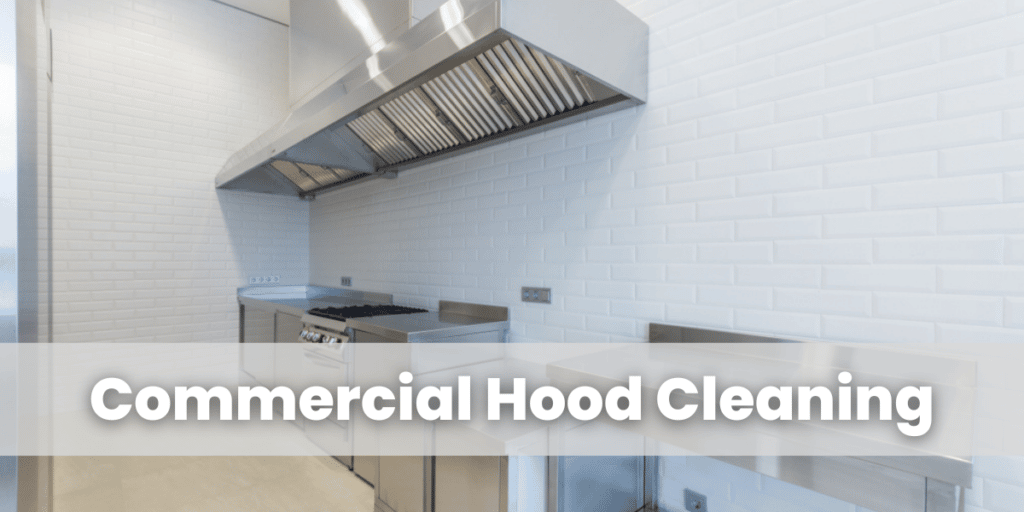 Our hood cleaners are trained and experienced, from removing the most stubborn grease stains to meeting the standards set by regulatory agencies, including the NBC and the NFPA 96 standards. In Canada, commercial kitchens are required to be inspected and certified by the NFPA 96 audit. To keep up with the standards, kitchen exhaust systems must be professionally cleaned at least once a year.
We provide you with proof of our work, including before and after photos for your records. Our work is guaranteed, so if you notice that something hasn't been done up to your standards, we will come back and fix it at no extra cost to you.
Whether it is a requirement from the Ottawa Fire Services or a request from your insurance provider, getting reliable commercial kitchen hood cleaning services near me is a must.
Many commercial kitchen owners are unaware of the dangers associated with dirty commercial hoods and other appliances, like grease traps and ductwork that also need to be cleaned once every year or so. They only realize they have been negligent right after a complete breakdown of the kitchen exhaust system.
Grease and grime buildup will result in a host of issues, i.e., overheating in the exhaust system, fire hazards, and the accumulation of filthy debris in the kitchen. Professional kitchen hood cleaning and maintenance is the best way to avoid these hazards.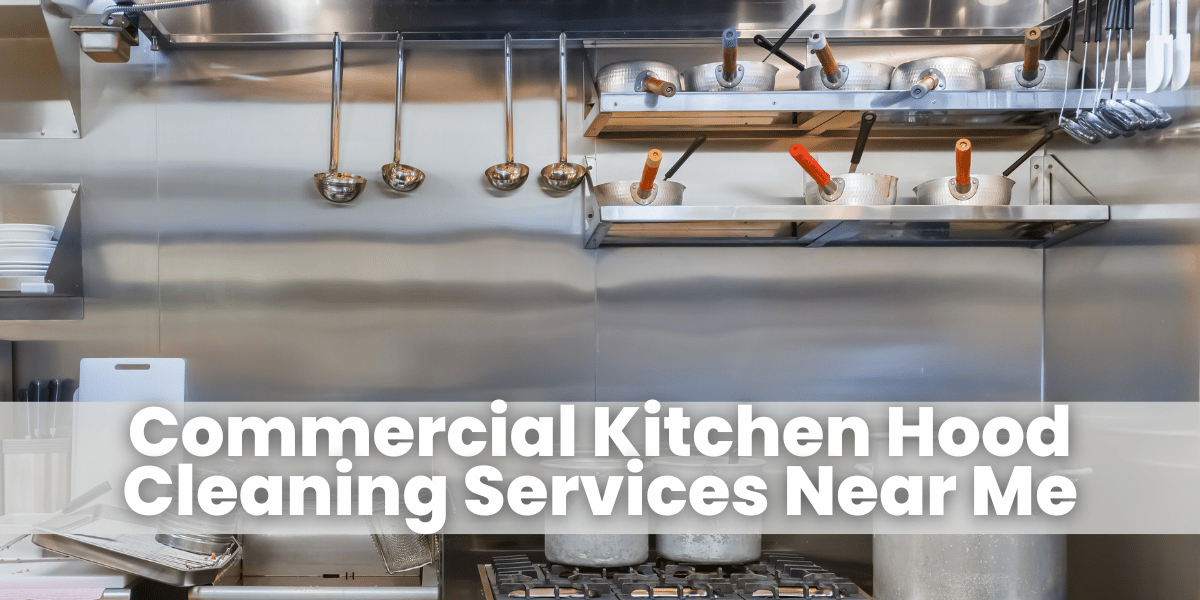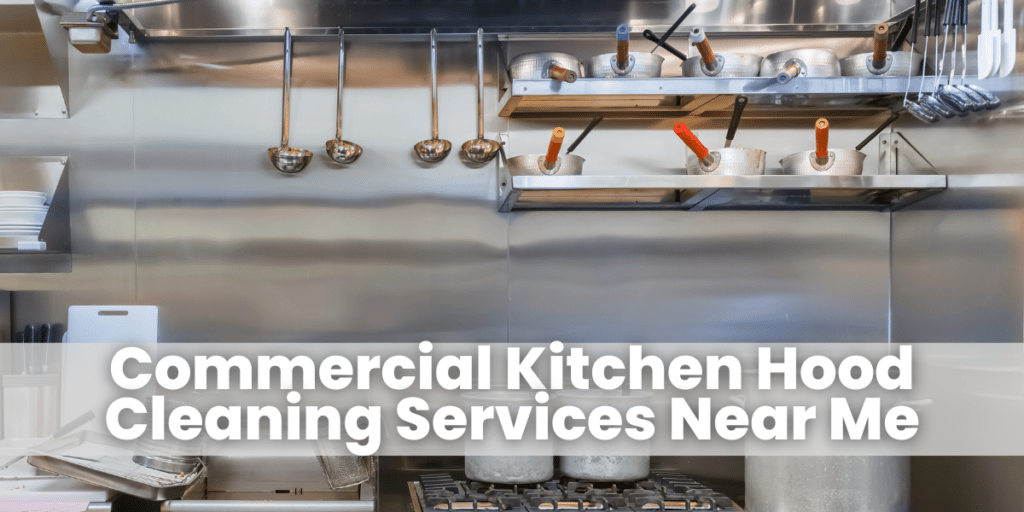 Commercial Kitchen Hood Cleaning Services Near Me
Our hood cleaners and technicians are equipped with the experience and know-how in commercial kitchen hood cleaning, including:
• Detach fans from the ductwork to allow for a more comprehensive cleaning session
• Clean the lower area of ductwork, which is usually neglected
• Use High-Pressure Water (HPS) to quickly blast away grease, grime and other stuck on substances
• Dust off exhaust fans, filters and other parts of the hood to remove foreign debris
• Clean the hood's exterior and seams to remove any leftover dirt or grime
• Properly dispose of all waste material
In addition to providing commercial kitchen cleaning in Ottawa, our team has over ten years of experience with ductwork maintenance, and repairs.
What People Are Saying
See what our customers are saying about us
They do great work and my kitchen hood is super clean again. Thank you
We hired Ottawa Hood Cleaning to clean our kitchen exhaust hoods. Ali and his team are amazing to work with. From the time we called and booked our appointment to the time the service technicians showed up these guys are true professionals. Thank you
Can't say enough good things about Ottawa Hood Cleaning. They know the restaurant business. They know what restaurant owners want and need. They kept the kitchen disruption to a minimum and were in and out within half a day. Great work. Thank you
Ottawa Hood Cleaning Areas Served