Ottawa Hood Filters and Maintenance
Kitchen Exhaust Cleaning Specialists
Commercial Cleaning Service
*** We are NFPA #96 CERTIFIED Kitchen Exhaust System Cleaning Company.
*** We provide Health & Safety CERTIFICATE as per NFPA 96 code, before and after pictures will be provided upon completion of work.
*** WSIB and Liability Insurance will be provided before the start of work.
We Have The World's Most Awesome Clients










Ottawa Hood Filter Cleaning
Over time, your restaurant's hood, filter, and exhaust fans will become caked with grease and grime. Not only is this unsightly, but it poses a fire hazard. Ottawa Hood Filter Cleaning specializes in getting your kitchen back to bare metal clean – ensuring the safety of both your patrons and employees.
At Ottawa Hood Filter Cleaning, we provide top-tier commercial kitchen cleaning services. Our hood cleaning process is an efficient and effective way to keep your restaurant clean, odour-free, and compliant with health codes. In Canada, commercial kitchens are bound by law to have their exhaust hoods regularly cleaned by a trained professional. Our cleaning process begins with degreasing and then pressure washing the entire exhaust system, fan, tubes and filters. We also use specialized enzymes to break up grease.
When you need your restaurant's kitchen equipment back to bare metal clean – choose Ottawa Hood Filter Cleaning to do the literal dirty work for you. With our help, you will never have to worry about a poor score from a health inspector or an unfortunate fire.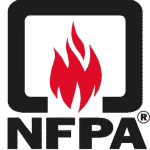 Our Fully Trained Service Technicians Follow The NFPA 96 (National Fire Protection Association) Standards for Hood & Kitchen Exhaust Cleaning.
Get Your Free Hood Cleaning Estimate Now!
Cleaning Vent Hood Filters in Ottawa
Vent hood filters have an irreplaceable role in any commercial kitchen, as they work to remove grease and steam from the air. If these filters are neglected, this means that excess grease particles can get sucked into the other vents of your kitchen.
At this point, you're looking at a malodorous environment for your employees, to say the least. Even worse, you could potentially be looking at a fire hazard in your kitchen.
Fortunately, cleaning vent hood filters in Ottawa is not as terribly difficult to commit to if you work with us. As a professional kitchen exhaust cleaning company in Ottawa, we do all of the heavy lifting for you. We know what it takes to get those grease-covered filters back into shape, and we have the proper equipment with which to complete the job.
A thorough vent hood cleaning in Ottawa should last anywhere from six months to one year, depending on how often your exhaust system runs. When it comes time to Cleaning Vent Hood Filters in Ottawa, be sure to work with trained and well-experienced cleaners. We have the right equipment and experience to take on even the most difficult jobs.
Ottawa Kitchen Exhaust Hood Filters
With so many businesses and establishments relying on having a fully functioning kitchen exhaust system, you must be in contact with a company that provides you with the services needed for your kitchen exhaust hood filters to work properly.
Our Ottawa Kitchen Exhaust Hood Filters team is made up of experienced and certified professionals who are committed to providing the best quality services to meet all your exhaust hood filter needs.
What we excel at is our extensive range of customized solutions – from designing and installing new kitchen exhaust system components, to repairing existing ones that have been damaged or broken.
Whether you need help with routine maintenance or emergency repairs, Ottawa Kitchen Exhaust Hood Filters is here to provide you with whatever your commercial kitchen needs. We fix, replace, install, and clean exhaust hood filters and components so that your kitchen is always up and running without interruptions.
Hood filters are responsible for keeping your restaurant, diner, and other commercial kitchens safe by capturing grease, grime, and smoke emitted by your cooking equipment. Keep those filters in tip-top shape all the time by partnering with us.
Maintenance for Kitchen Exhaust Hood Filters
Maintenance for Kitchen Exhaust Hood Filters is meant to be performed yearly; sometimes twice a year if required. If your commercial kitchen goes through a lot of cooking all day then the filters need to be taken out and cleaned by a professional.
Those filters are the most critical component of the entire exhaust system. They prevent grease build-up and heat from either getting out of control or just being a fire hazard. Regular maintenance ensures that the filters are working properly, allowing for proper airflow through the hood when cooking is taking place.
Our Maintenance for Kitchen Exhaust Hood Filters includes:
Cleaning of grease filters with a high-powered vacuum or steam pressure washer.
Removal and cleaning of all gaskets and other components that may get dirty or clogged during the process.
Examining the entire exhaust system including roof vents and fans to ensure they are functioning properly.
We will also check for any leaks in the system. We've seen our fair share of grease fires over the years, and they can be devastating. Taking the time to do maintenance on your kitchen hood filters is the best way to prevent the likelihood of a fire.
If you're looking for a company that provides quality service for maintaining your kitchen exhaust hood filters, work with us. We'll make it worth your time and money, with fast and reliable service, at a highly competitive price.
Commercial Hood Filters for Cooking Equipment
Filters are indispensable components of commercial kitchen equipment, but their importance is often overlooked by many restaurants. The quality of the filter used makes a big difference in the safety and performance of your cooking equipment. Because fryers are exposed to high temperatures and grease during use, it's essential that they are well-protected with a quality filter.
High-quality Commercial Hood Filters for Cooking Equipment will efficiently capture grease and grime, preventing it from dripping back onto your food and into the air of your kitchen.
We provide a wide selection of high-quality commercial hood filters for a variety of cooking equipment. Our filters are made with sturdy materials that stand up to constant use and high temperatures, providing reliable protection for your restaurant equipment and your customers' well-being.
Hood filters in overly busy kitchens wear out quickly, so we offer convenient replacement filters that can be easily installed to minimize downtime and keep your kitchen running with minimal distraction. The inability to quickly replace a filter will lead to costly repairs and even put your restaurant in danger of violating health codes. Don't let a dirty filter distract you from your top priority: serving great food to your customers.

What People Are Saying
See what our customers are saying about us
They do great work and my kitchen hood is super clean again. Thank you
We hired Ottawa Hood Cleaning to clean our kitchen exhaust hoods. Ali and his team are amazing to work with. From the time we called and booked our appointment to the time the service technicians showed up these guys are true professionals. Thank you
Can't say enough good things about Ottawa Hood Cleaning. They know the restaurant business. They know what restaurant owners want and need. They kept the kitchen disruption to a minimum and were in and out within half a day. Great work. Thank you
Ottawa Hood Cleaning Areas Served