Kitchen Exhaust Cleaning Specialists
Commercial Cleaning Service
*** We are NFPA #96 CERTIFIED Kitchen Exhaust System Cleaning Company.
*** We provide Health & Safety CERTIFICATE as per NFPA 96 code, before and after pictures will be provided upon completion of work.
*** WSIB and Liability Insurance will be provided before the start of work.
We Have The World's Most Awesome Clients










The National Fire Protection Association (NFPA) created NFPA 96 Fire Code as a standard to reduce fire hazards in commercial cooking through preventive and operative requirements. Originally adopted in the U.S., NFPA 96 is also accepted worldwide by organizations like the European Committee for Standardization and the National Building Code of Canada.
NFPA 96 isn't limited to commercial kitchens–it pertains to restaurants, cafeterias and other food-handling areas that use grease-fired cooking equipment. NFPA 96 is divided into three sections: preventive measures, operative measures, and amendments to codes.
NFPA 96 exists to prevent cooking fires through the combination of regular equipment cleanings, fire suppression system installation, heat sensor implementation, and more.
NFPA 96 sets out guidelines to assist with the safe operation of cooking equipment, including how to safely handle flammable grease and oils. This section provides information on installing, repairing, and inspecting exhaust systems; training kitchen staff on safe procedures, and other strategies to reduce fire hazards while cooking.
Amendments to NFPA 96 include newer standards and best practices. For example, in the case of cooking equipment that is not contained within an enclosure, such as a mobile fire pit or grill, NFPA 96 stipulates that the operator must have a fire extinguisher readily available at all times.
Article 6.2.2.7 of the National Building Code of Canada requires NFPA 96 for guidance on the design, installation, operation, inspection and maintenance of commercial cooking ventilation equipment.NFPA 96 Fire Code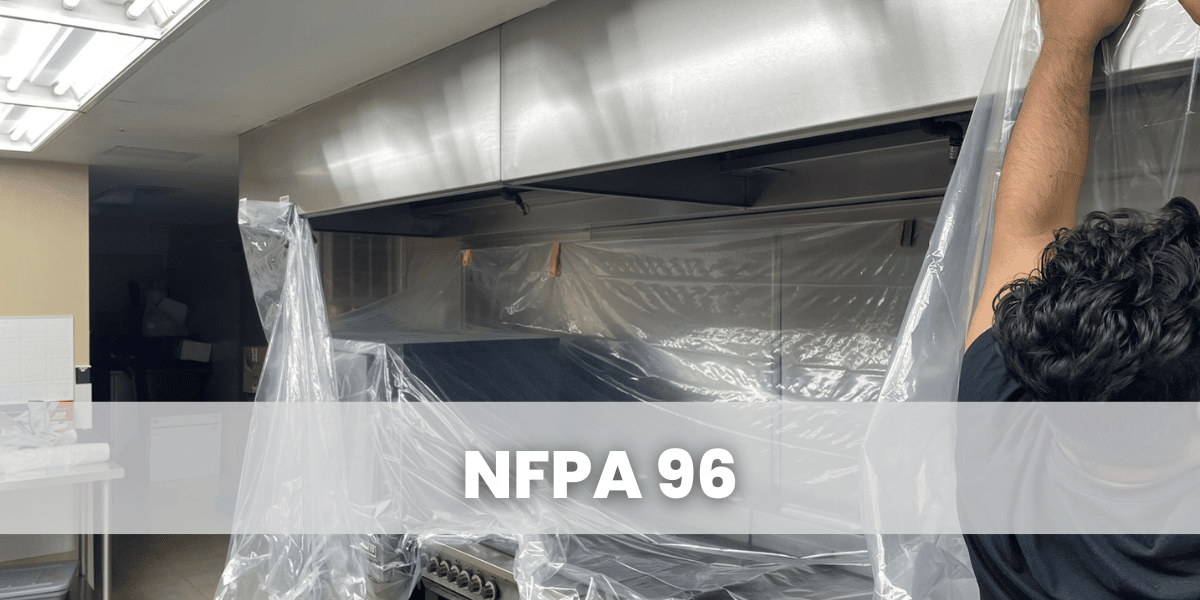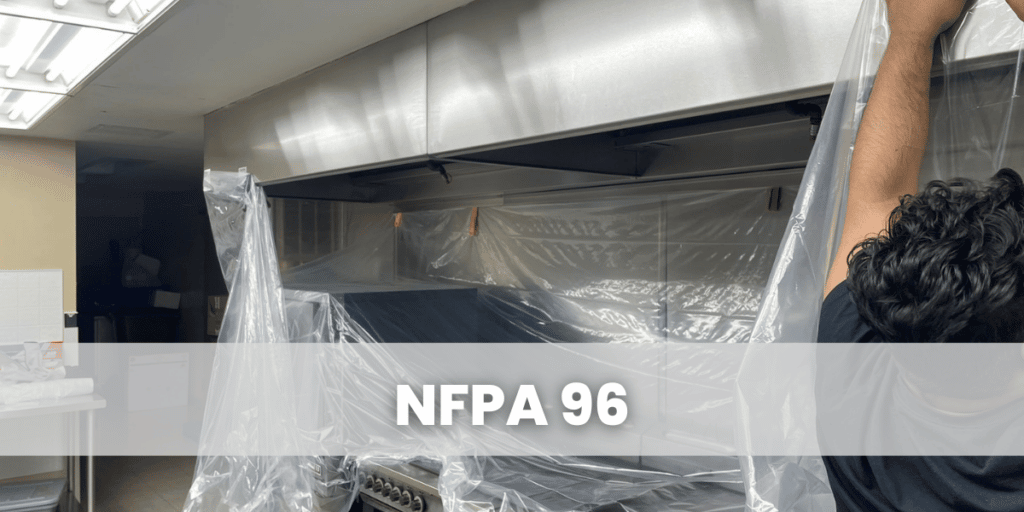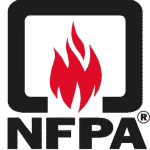 Our Fully Trained Service Technicians Follow The NFPA 96 (National Fire Protection Association) Standards for Hood & Kitchen Exhaust Cleaning.
Get Your Free Hood Cleaning Estimate Now!
Commercial kitchens in Canada, i.e., restaurants, hotels and hospitals are subject to the NFPA 96 Code. This code pertains to the ventilation of the cooking facilities in these institutions. The code states that all cooking vents must be properly connected to an exhaust system which can move away unwanted pollution into the atmosphere.
NFPA 96 Kitchen Exhaust Code
While some restaurants may use outdoor ducting for their systems, most places would have their exhaust ducts connected to a hood fan installed within the kitchen. This hood fan will draw out smoke, odours and heat generated during cooking, thus improving air quality for both workers and customers.
The NFPA 96 Code also dictates other requirements related to the installation and maintenance of these systems. For example, it requires that all vent ducts should be made from durable, non-flammable materials. It also stipulates that the hood fans must be properly cleaned and regularly maintained, to ensure the proper functioning of the system.
In addition to these requirements, some restaurants may also opt for special cleaning services offered by companies specializing in kitchen ventilation systems. These services often involve the use of high-tech equipment and advanced cleaning solutions to thoroughly clean out grease, smoke and other contaminants in the vent system.
NFPA 96 Commercial Kitchens
NFPA 96 Kitchen Exhaust Code
What Does NFPA 96 has to do with commercial kitchens in Ottawa?
Commercial kitchens have to follow a host of different safety regulations, and one of the most important ones is NFPA 96. This code sets out specific standards for how commercial kitchens should operate to reduce the risk of fire as much as possible. It covers everything from exhaust systems and ventilation requirements to emergency egress plans.
If you operate a commercial kitchen in Ottawa, then you must know and understand the provisions of NFPA 96. This code ensures that your kitchen is as safe as possible for both your employees and the people who use your facility.
The kitchen exhaust system goes through a lot of stress during the cooking process and is at high risk of causing a fire. It's for this reason that an exhaust system should meet all the requirements set out in NFPA 96, including proper configuration and installation, as well as regular maintenance and inspection.
In addition to managing your kitchen exhaust system properly, you also need to ensure that your ventilation system is working properly. NFPA 96 requires regular inspection and maintenance of commercial kitchen ventilation systems in order to make sure that they are not a fire hazard or contributing factor to the spread of harmful contaminants like grease and particulate matter.
If you need help with compliance or have any other questions about how to keep your kitchen running smoothly, we can help. We have years of experience working with commercial kitchens in Ottawa and know all the ins and outs of NFPA 96.
NFPA 96 Standard for Ventilation Control
Fire inspections often reveal issues with mechanical systems, but by involving a professional with expertise in these systems, you help ensure life safety requirements are met and limit future problems.
We are Ottawa's most trusted team when it comes to helping clients meet the NFPA 96 Standard for Ventilation Control. We have extensive experience and knowledge of these systems, so you're confident that your commercial kitchen exhaust system is up to par with the standards.
Our team has a proven track record of helping clients save time, money, and energy when it comes to their ventilation system. We can provide you with the expertise your business needs to stay compliant and ensure that your kitchen is always operating within industry standards.
Our kitchen exhaust cleaning services include:
1) Ventilation system inspections and maintenance
2) Cleaning and inspection of ductwork, deflectors, hoods, stacks, screens, and filters
3) Exhaust fan installations, repairs, or replacements if needed
Free consultations with our experts to discuss your ventilation needs or concerns.
Whether you're looking for kitchen exhaust cleaning services or our team to install a new kitchen exhaust system, we're here to help.
Commercial Cooking Equipment in Ottawa
Cooking equipment in a commercial kitchen comes with it certain challenges when it comes to cleaning and maintenance. Both tasks are required to be on par with all quality standards in the food service industry.
In Ottawa, the commercial cooking equipment is regulated by the local health department, with the regulations coming from the National Building Code and the NFPA 96 standards. All commercial kitchen equipment needs to be certified by a professional and meet the burners or cooking surface manufacturer's requirements.
The committee that oversees these rules is responsible for conducting inspections periodically, as well as making sure that all owners and operators of the kitchen are aware of their rights as well as responsibilities when it comes to maintaining their equipment.
Depending on the kitchen size and how much cooking is done there, certain areas might need to be designated for commercial equipment cleaning, while other parts may only require occasional disinfecting or sanitizing.
Some basic things that are required in all kitchens include regular drain line inspections, as well as grease trap maintenance. The areas where food is stored and prepared also need proper air filtration systems, as well as regular changing of filters.
Cleaning and maintenance of an Ottawa commercial kitchen includes that of the proper handling of the exhaust hood system. We're a full-service cleaning company with the license and insurance to cover your needs. We understand the local rules and regulations and we'll work to make sure your kitchen is compliant with all requirements.
NFPA Exhaust and
Fire Protection Systems
Majority of restaurant fires are caused by the cooking equipment. In all commercial kitchens, a proper ventilation system in place and a reliable fire suppression system are a necessity to minimize risks. The National Fire Protection Association (NFPA) has established standards for these systems that include providing adequate air for combustion, removal of harmful by-products from gas appliances, flue gases and steam from cooking equipment, and removal of combustible vapours created by cooking.
A proper exhaust system removes air contaminated with smoke, vapours, and odours. It also reduces the risk of fire by venting hot air and flue gases away from combustible materials in the kitchen. On the other hand, a reliable fire suppression system helps rapidly extinguish fires and reduce their damage.
While the exhaust system removes potentially flammable gases, smoke, and heat from the kitchen, the fire suppression system releases special chemicals or water to stop or prevent a fire in its early stages.
To meet NFPA standards for exhaust systems, they must be properly sized and installed according to manufacturers' instructions.
The exhaust system must be designed to carry away the heat, smoke and fumes while generating a minimum of negative pressure in the kitchen. Likewise, it should ventilate outside through roof cowls or hoods designed for this purpose.

Hood Grease Removal Devices in Ottawa
Hood cleaning is an integral part of restaurant maintenance. Restaurant hoods will get dirty and clogged with grease no matter what, which will not only make them difficult to clean, but also cause safety hazards.
Hood Grease Removal Devices in Ottawa help to keep a restaurant's kitchen equipment safe and clean by reducing the risk of fire and unwanted food contamination. These devices are usually attached directly to the hood and use a special filter system that helps remove grease from the air as it circulates through the system. Some models use high velocity suction from powerful fans, while others rely on water filtration technology.
When choosing Hood Grease Removal Devices in Ottawa for your commercial kitchen, consider these:
1. Size and capacity – To effectively remove grease from the air, the hood grease removal device must have a large enough capacity to handle your restaurant's volume of cooking. Make sure to choose a model that has either high airflow or is designed for use with water filtration.
2. Ease of maintenance – Hood grease removal devices can get clogged with grease, very quickly. Look for models that are easy to clean and have a high-quality filtration system.
3. Safety features – Choose a hood grease removal device that has built-in safety features, such as automatic shutoff or overheating protection, in order to reduce the risk of potential fire hazards with your kitchen equipment.
What People Are Saying
See what our customers are saying about us
They do great work and my kitchen hood is super clean again. Thank you
We hired Ottawa Hood Cleaning to clean our kitchen exhaust hoods. Ali and his team are amazing to work with. From the time we called and booked our appointment to the time the service technicians showed up these guys are true professionals. Thank you
Can't say enough good things about Ottawa Hood Cleaning. They know the restaurant business. They know what restaurant owners want and need. They kept the kitchen disruption to a minimum and were in and out within half a day. Great work. Thank you
Ottawa Hood Cleaning Areas Served